clairhenderson
Yes, Stanley, I'd love a Negroni (to go with my Celeriac Milanese)
That actor, he's in that thing. The one with Meryl Streep. You know the one. Bald. Glasses.
Then during lockdown, he made a Negroni, and now we all know his name.
And I still don't think anyone can quite put their finger on why we all felt slightly funny when we watched Stanley Tucci's cocktail masterclass. Something to do with self confidence, something to do with his rolled up sleeves and something to do with that understated sex appeal that got us all reaching for the Campari.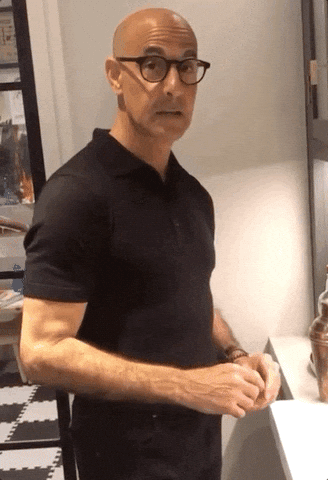 Now, as then, we are all in need of a little escapism, and sunny climates and delicious food are always a great backdrop. So when a new Netflix series - Tucci Does Italy - appeared, I was thrilled. And it didn't disappoint.
I'm the first admit that's it's hardly a new format. Most celeb chefs revere Italian food, either by birthright - Nigellal Lawson, Antonio Carlucci, and... err Gino D'Campo. Or those who have embarked on dedicated tours of the country to find true dishes, hidden gems and lost secrets . Rick Stein, Jamie Oliver, Hairy Bikers, and even the late, great, Keith Floyd.
But mix the food stuff with some splendid old school Judith-Chalmers-Wish-You-Were-Here moments, like when he learns about wine doors in Florence, it is super watchable with just the right amount of food, history, food history and breathtaking Italian scenery to keep you glued.
BUT, unlike the bake off, when I'm inspired to grab a macaron pan before the credits even roll, I am left feeling that I need to visit Italy to really experience these ingredients and enjoy the food as much as Stanley seems to. Southend to Italy, Easyjet?
So I won't be attempting the Delizia al Limone (Lemon Delight with13 lemons per cake!) or Pizza Frittee da Fernanda (deep fried ricotta calzone!) BUT, as a fan of Pollo Milanese, I did wonder whether this a great dish for updating to a veggie delight...
Celeriac Milanese?!!
Whilst I can't take full credit for this - I have since found Celeriac Schnitzel in a few places, including the aforementioned Nigella, I am pleased to report that it works. It's fabulous. And I'm going to invite Stanley round to sample.
Celeriac Milanese
Hooray! One of those dishes that feels meaty enough to impress even the most hardened of carnivores!
I don't peel my celeriac for this. I just give it a jolly good wash. Like jacket potato skins, whether you eat the skins or leave to the side is personal preference. The skin is tasty and there is plenty of goodness, but it is a little tougher than the fluffy insides!
1 celeriac
Glug olive oil
1 cup plain flour, seasoned
2 eggs, beaten
1 cup breadcrumbs (with parmesan, optional)
2 inches of oil for deep frying
Spaghetti, fresh tomatoes and rocket for serving
Preheat your oven to 180C.

Wash your celeriac and chop into 1cm thick slices. Lightly oil the slices both sides and pop in the oven on a baking sheet for around 25 minutes, until slightly softened.

Fill a saucepan with approx 2 inches of vegetable or sunflower oil and heat until you can throw in a breadcrumb and it starts fizzing. Also pop a pan of boiling water on and start cooking your spaghetti.

Prepare three plates for the crumbing. One of seasoned flour, one of beaten egg and one of breadcrumbs (mixed with parmesan, if you like).

Dip each celeriac slice first in the flour, then the egg, then the breadcrumbs. Ensuring that they get a good coating of each.

Carefully place a slice in the oil and allow to bubble until golden brown on one side and then turn and do the same on the other. It will only take 3-4 minutes each side. Leave each slice on a kitchen towel to drain.

Drain your pasta and mix with fresh chopped tomatoes and rocket. Pop a celeriac slice on the top, add on some extra parmesan and ENJOY!